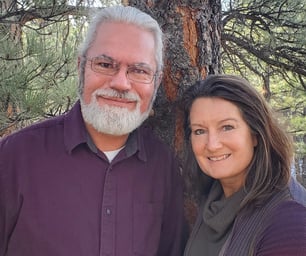 We are a husband-and-wife team living in the Bull Mountains of Montana. Even though we come from very different backgrounds, we share a love for the natural beauty of Montana and the independent spirit of the people who live here.
Pieter was born in Brussels, Belgium and raised in South Africa. (If you look at our logo you will see that the branches of the Acacia tree form the shape of the continent of Africa.) He immigrated to the US in 1998, and obtained his US citizenship in 2007, the same year he moved to Montana. Lori was born in Iowa, and spent time growing up in Nebraska, Colorado, and the Dakotas. She moved from Bismarck, North Dakota to Montana in 1997. Our business name, Natuurlik Handcrafted, comes from Pieter's first language which is Afrikaans. "Natuurlik" is an Afrikaans word that would translate to "naturally" or "obviously".
We set out to create products that we personally enjoy using, and can feel good about selling; products with simple ingredients, free from harmful chemicals and additives. We draw inspiration for many of our products from the natural Montana beauty that surrounds us. We also enjoy creating products, like our candles, that remind us of pleasant memories and inspire new ones.
We thoroughly enjoy meeting and getting to know our customers. We appreciate your interest in our business 😊